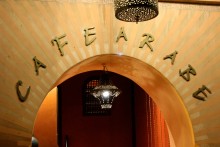 Amidst the dirt and grime of Marrakesh's souks is a bit of a fine dining experience that feels totally out of place. There's alcohol on the menu and not a beggar to be seen. I know, weird. And unlike other spots that offer both Italian and Moroccan food, I had a feeling that Cafe Arabe knew how to do them both right.
I began things with a bottle of Casablanca Beer. I mention beer here because this was quite literally the first restaurant I went to that had alcohol on the menu. While I'm no alcoholic, I couldn't have been happier to have a beer in my hand…and mouth. For all I know it is the Bud Light of Morocco, but it was still pleasant on the senses.
Despite it being my last meal in Morocco, I decided to order some non-Moroccan food. Usually I would have hated myself for such a decision, but a man can only have so many tajines. Also, I saw that there was gnocchi on the menu and I have learned to never bet against gnocchi.
This gnocchi in particular was of the pesto variety and it hit the spot. The sauce wasn't packed with too much flavor, but just enough to complement the gnocchi itself. I love me some soft, pillowy gnocchi and this was just that type – seemingly held together by forces unknown to mankind and just waiting to melt in my mouth.
Cafe Arabe was just the right place to end the trip to Morocco. If they do Moroccan anyway near as well as they do Italian, even those hoping to eat local fare won't leave disappointed.