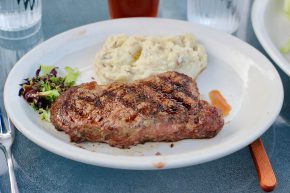 Idaho Falls is undoubtedly a pretty place – situated just a couple hours from Yellowstone and the Grand Tetons. So, when I heard the view at The Sandpiper was one of the best, I expected a good view and mediocre food. That's because there is often an inverse correlation between good food and a good view due to the high cost of obtaining that view. I immediately found out the view was great because of a lovely little canal flowing right by the patio.
The food, well, I would have to have a couple of beers before determining how good that was. I ordered up the Rib Steak, which was boneless and no that is not a typo. For some reason they call ribeye steaks rib steaks at The Sandpiper. I ordered it medium rare and opted for the garlic mashed potatoes for my side – continuing my epic attempt to eat potatoes for every meal in Idaho.
The dish was very nearly a thing of beauty, if not for a few leafy greens tossed on the side of the plate as if to say "We swear, you could have eaten vegetables in this meal." I ignored them and watched as my perfectly cooked steak oozed juices as it sat on the table waiting for me to finish taking pictures. I dug in and it was a mighty good steak. There was a feeling of lost flavor due to the lack of bone, but this steak was juicy and lightly salted to bring out the savory flavor of the steak. The mashed potatoes made a great companion to round out my meat and potatoes dinner – offering just the right amount of garlic and few bite-sized potato chunks to reassure me that they were mashed a few meters away from me.
It's a rare thing to have a great view combined with a great meal, but The Sandpiper managed to deliver. It wasn't a steak that changed the game or broke any new ground, but it did what was expected of it and sometimes that's all you need.