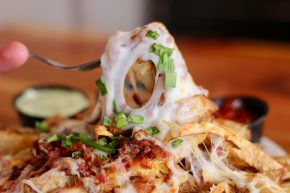 Traveling for work can sometimes take you to big cities with tons of food. And sometimes it can take you to places like Idaho Falls, Idaho. It's a place with a surprising amount of options considering the airport only has three gates, but, I mean, still. So on my first night there I went straight to a restaurant within a hotel, which is usually not a good plan, but I had read good things. It was called Bee's Knees.
I took a look at the menu and immediately knew it was my kind of place. I kicked things off with Bacon Cheesy Fries. After all, I figured I needed potatoes in Idaho more than anything else. This was a wise choice, as the fries weren't just topped with cheese, they were loaded with the stuff and then clearly spent some time in the oven to ensure it would all kinds of melty. The house-made bacon bits were also a nice touch and the cilantro ranch was easily the best sauce to dip in.
For my meal, I went with the Jalapeno and Cream Cheese Stuffed Burger. In addition to those stuffings, it was also topped with cheddar and brown sugared bacon. It came with a choice of a side, and lettuce, tomato, onion and a side pickle. By my waitress's recommendation, I opted for the mac and cheese, opted out of all that other stuff and then attempted to order my burger medium rare. Unfortunately, I was told that Bee's Knees doesn't cook the burgers to order. This was disappointing to hear, but I figured it would still be good.
It arrived and I'm not sure I had ever seen such an attractive burger. It was loaded with cheese and bacon so much so that I couldn't even see the meat in there. The mac and cheese looked pretty nice, too, with a pretty char on it. I dug into the burger and it was…well…tough. The meat was simply overcooked, and there wasn't enough cream cheese stuffed inside to make up for that. And frankly it's a shame, because everything else about the burger was fantastic. But, I mean, you gotta the core right.
That mac and cheese, however, kicked ass. It was creamy shells and cheese, and just what I needed to accompany a burger, especially one that fell short of my expectations.
So, maybe Bee's Knees is not a burger place. They sure know how to make food look pretty, but only the sides really lived up to expectations.