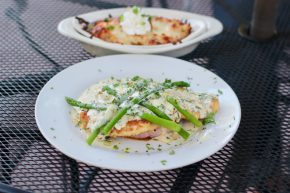 I always enjoy finding places off the beaten track. It certainly helps if the places actually churn out good food, but sometimes being off the beaten track can somehow enhance that flavor. D'Railed in Idaho Falls is not just off the beaten track, it's literally on the other side of the tracks. Yet, I had read some things about the food being d'licious and wanted to find out for myself.
First off, I'll say that this place has a beautiful back patio. It's not a place with a view, but it's a place you want to hang out in for a long time with a beer, preferably if there's some sort of a bonfire going on with s'mores. But I only had the beer and a menu that was only somewhat unvegan-friendly.
I did find one dish that seemed straight up my alley, but with one catch. It was called Chicken Christopher and it was a lightly fried chicken breast, a hunk of black forest ham, asparagus and Christopher sauce. I tried ordering without the asparagus and was told this was impossible because of how the Chicken Christopher was cooked and figured I could at least pick it out. I also snagged some au gratin potatoes.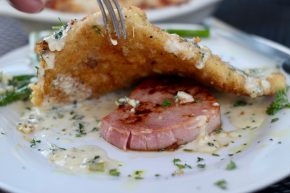 Of course, I was shocked when my chicken arrived with the asparagus plainly laid upon the chicken. This was disappointing, to be sure, because this could have easily been left off, but at least it was easy to remove them. And after that was taken care of, this was one delicious dish. The sauce was creamy and had just the right amount of flavor, while the lightly fried chicken was tender and just the right amount of crispy. The hunk of black forest ham added a nice salt element to the meal. The au gratin potatoes were also delicious because it is really hard to go wrong with cheesy potatoes.
While the meal may have started off-track thanks to the asparagus incident, it would be impossible to argue that my meal was anything more than tasty. Occasionally, restaurants are off the beaten track for a reason, but D'Railed was simply there because it was the right place to make some tasty food with arbitrary rules.