Pittsburgh may be a great city, but it was unquestionably missing the riches of Mexican food that can be found in LA. When I told people about my new digs in Echo Park, a number of them said I had to check out Guisados, which was apparently home to amazing tacos. I took these recommendations to heart, pushed them on my family and set out to pick up a number of these tacos for us to eat.
All the meaty tacos had a braised meat base and I opted for the Mole Poblano and Bistek en Salsa Rola. I also ordered one of their Quesadillas con Chorizo. Unfortunately in our big order Guisados left one of the tacos out of our group, but that was literally the only bad thing about the place. Everything after that was perfection.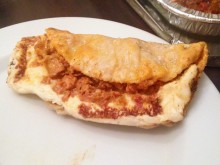 The Mole Poblano was topped with sour cream, queso fresco, red onion and some dried chile. I picked off the red onion (because I did not order it without and it was so deliciously balanced I could hardly handle it. The same went for the Bistek, which was braised with red bell peppers and tomatoes (so I didn't have to taste them really) and topped with chile de arbol, avocado while lying upon a bed of black beans. It was another big winner. By the way, the quesadilla was also fantastic, because instead of just shredded cheese it used queso panela, which elevated this thing to a whole new level.
But perhaps the best thing about Guisados is not just the ability to combine amazing ingredients, but the incredible fresh masa tortillas. Guisados may very well serve up the best tacos in LA. and their quesadilla ain't too shabby either.