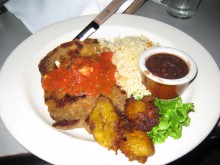 Hidden behind faux bamboo stalks that protect the restaurant from the noise pollution of Venice, you would expect Bamboo to be a sort of Asian-inspired restaurant. Going in with these expectations, you'd be surprised to find that Bamboo is a Caribbean and Latino inspired restaurant, but you definitely won't be disappointed by the food. Bamboo's outdoor seating area has a nice and comfortable ambiance that would make it a great date spot.
The menu is a nice range of options, from pizza to seafood. I found my own personal niche in the steak section and chose the Milanesa a La Bamboo Breaded steak. This was topped with mozzarella, sauteed tomato, garlic and spices. I asked the waiter if I could get mine without the tomato and he seemed very surprised at the prospect. He then explained that this wasn't just going to be some pile of tomatoes on the plate, but actually a tomato sauce. I rescinded my request and awaited my meal.
When it came, it was more than just the Milanese steak. The plate included rice, beans and fried plantains. This was a very pleasant surprise and I dug in. Everything tasted pretty fantastic. The tomato sauce was really good and thankfully nothing like simple stewed tomatoes. The sides were also great and made for a very happy eating experience. My only small issue was the price, which came in at $14 for my plate, but for all that came with it I couldn't complain too much.