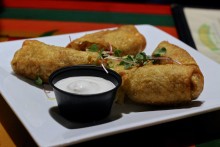 It all began with a quick stop for some Medalla Light beers and some appetizers, but after taking a look at the menu and seeing the food our fellow customers were eating, it became apparent that Bananas in Esperanza would become our dinner that night in Vieques. Bananas, like Duffy's from the night before, is kind of like a beach bar with mainland American influence.
But again, it all began with some appetizers. The first was their Mofongo Spring Rolls, which were basically a spring roll shell filled with mashed plantains, manchego cheese, bacon and caramelized onions with a horseradish sauce. We didn't order without the onions, because, well, travel and fortunately the taste was nowhere to be found. Unfortunately, the bacon was pretty tough to find as well and these ended up just kind of tasting like fried plantains with cheese. Not a bad thing, but not as good as they could have been either. But we also ordered the Jerk Chicken Rangoons, which were basically dumplings filled with jerk chicken and some mango ginger chutney for dipping. These also sounded much better than they tasted, with much less flavor than I had hoped for, but enough to give me hope for the main course.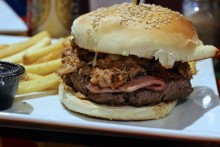 And the main course was truly something. I ordered the Tripleta Burger and while I know you may be getting upset at me for once again not getting something truly local, I have to explain to you what comes in the Tripleta. It begins with a really solid (and perfectly medium-rare cooked) beef patty that certainly seemed to be made in-house. Then it is topped with roast ham, pulled pork, swiss cheese and fried plantains. The pulled pork was surprisingly amazing, which made up for the fact that the fried plantains were just plantain chips. Moreover, it all just worked perfectly as a burger, especially with the great BBQ sauce it came with (that tasted weirdly similar to Kansas City's Gate's Hot BBQ Sauce).
If you're looking for a good burger in Esperanza, Bananas is far superior to Duffy's. It's a little more costly, but definitely worth it. As for the appetizers, they're good for getting in touch with the Puerto Rican side of the restaurant, but otherwise it's best to just skip to the main course.