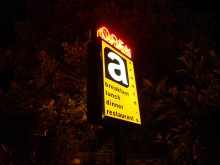 After a few days in Cape Town, we had eaten dinner every night on the Waterfront and were eager to try somewhere and something new. Fortunately, before leaving home I had looked up places to eat crazy meats in Cape Town and came upon Arnold's. Since we still had a car for the day, we sought the place out and found it pretty easily.
The menu at Arnold's kind of caters to tourists in that it offers all sorts of exotic meats, in addition to its menu of normal-looking Western foods like burgers and pasta. But I was there for one thing only: a section of their menu called "on the wild side." I could have settled for something simple, like the ostrich filet, but I hadn't yet eaten anything exotic and went for the South African Game Platter.
Instead of just trying one bit of game, this featured four different exotic animals that rotated depending on the day. It was a bit pricier than the other dishes, but we wanted to splurge for something awesome. On our night, the platter featured Warthog Ribs, Crocodile Ribs, Ostrich Filet and Gemsbok (an African antelope) Filet.
I was quite excited to try all of these and when the platter arrived, it was a beauty. I wasn't sure where to begin, but the warthog ribs seemed as good of a place as any. It turned out this was a mistake, because after these everything else paled in comparison. These ribs were like the god of pork ribs and it didn't hurt that the BBQ sauce that these ribs were served with was tangy and awesome.
I definitely enjoyed the ostrich and gemsbok filets as well. Ostrich wasn't exactly the most exotic thing to me, as I had eaten it in burger form before, but I was surprised at how beefy it tasted in filet form. The crocodile ribs were the most disappointing meat of the lot, being quite chewy and lacking in any sort of flavor not taken from the other BBQ sauce that topped these and the filets. They were also much harder to eat than most ribs, because they were too lean to just fall off the bone and there was a bit of a backbone holding the meat back as well.
Crocodile ribs aside, Arnold's delivered in the exotic meat column, and it was so good that we had to order dessert. Because we had seen it at another table, we went for their Mini Creme Brulee, which was torched tableside in order to give it a sugary crust. Usually desserts are irrelevant to me, but this creme brulee was definitely a winner and a good way to close out a crazy meal at Arnold's.