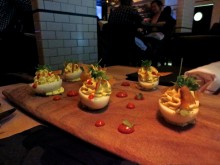 We all like The Counter, that quintessential custom burger place that has spread its beefy goodness around the nation. And although it isn't the most inspired of places, it gets things done. Well, the guy who started the place decided it was time for some more inspirational food and cooked up a gastropub-esque (no burgers!) place called Freddy Smalls in West LA.
Like many of the newer restaurants in LA, Freddy Smalls capitalizes on some people's obsession with small plates. I don't know who these people are, but I often feel like they are a scam. For example, the "Smalls" section of the menu featured no dishes cheaper than $14. Small dishes, but perhaps not matching small prices.
Nonetheless, we began the night with some Buffalo Deviled Eggs. These were stuffed with Point Reyes Blue Cheese, drizzled with CP's hot sauce and topped with some sort of celery that I picked out. After all, I was sharing and couldn't exactly order without. In addition, each had some crispy chicken skin poking out, which was a nice, fatty, salty delight. I recall a time when some people said chicken skin would become the next bacon, and while this didn't happen, it was still welcome here. In all, the eggs were quite good.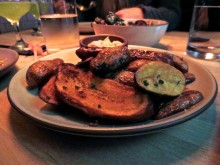 Then came the potatoes. Specifically, the Smoked Fingerling Potatoes & Dip. These were, by far, the best deal and the possibly the best thing on the menu. Topped with green onions, espelette pepper and chives, they were perfectly seasoned and perfectly roasted. I would have hoarded them to myself (and trust me, I tried), but I did have to eventually share them with the rest of the table. The dip was also great, being a bit peppery (perhaps pimento?) and creamy.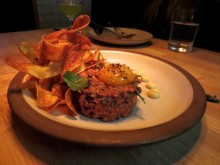 We also ate the Flash-Grilled Steak Tartare. And by also ate, I mean I tried a bite, realized it tasted no better than cat food and then proceeded to stop eating. Tartare is simply not my thing, which I know is weird coming from a beef-lover, but it's true. Sorry. Moving on.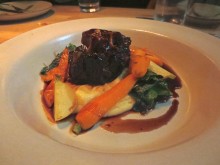 I finished with one of their specials, Oxtail. It came on a bed of mashed potatoes, and was garnished with some crappy vegetables that I passed off to the rest of the table. The oxtail itself was quite tasty, if lacking in meat quantity. I know that's kind of what comes with the oxtail territory, especially at a small plates joint, but I finished all my food and wanted more.
Seriously, after dinner I was still hungry. I know I often give the impression of having an insatiable appetite, but I really do get full and that is the MAIN reason I eat. Yeah, flavor and texture is all super awesome, but if I'm not full, the restaurant has, well, failed. Freddy Smalls is not a total failure, though. I did like most of what I ate, so they definitely have flavors down, but they are certainly not close to perfect.