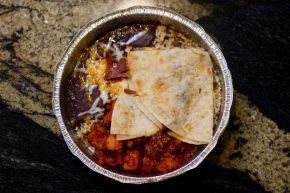 Long before it was cool to do fusion food, Chino Bandido arrived on the scene in Phoenix. This was back in 1990 when interracial marriages were barely okay, let alone interracial food. But Chino Bandido found something that worked – Asian and Hispanic food and hasn't looked back. So while the name is a reference to Chinese and Mexican food, things like Cuban Beans and Teriyaki Chicken tell a larger tale.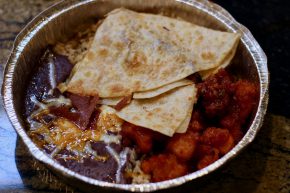 For those who have never been before (and for those who just love freebies), Chino Bandido lets you sample before you eat, and after trying out a few things I knew what I had to have. It began with a Jerk Chicken Quesadilla, some Jade Red Chicken, Cuban Beans and BBQ Pork Fried Rice. Outside of a crazy Las Vegas buffet, I had never had such a seemingly strange mix of food in one dish. Yet, it just worked.
Look, this is not where you go when you are looking for authentic Asian or Hispanic food. That doesn't matter, because the food is that good. From the Jade Red Chicken's fried up sweet and spicy combination to the Jerk Chicken's hot rendezvous with cheese in the quesadilla. It's all good and I can't imagine being disappointed even if I had ordered everything completely differently.
Best of all, there is nothing pretentious about this place. Chino Bandido knows what it does, and the world is a better place because of it.