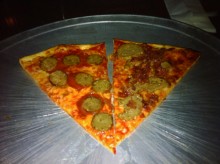 What's the first thing you think about when someone tells you you're going to a place called Garage Pizza? Flying unicorns with laser beam eyes? Doing the backstroke through a sea of sour patch gummy worms? No, you think of pizza found down a shady back alley with a haggard old man selling you a grimy looking slice of pizza out of a homemade oven built from used industrial parts. Thankfully none of those are true (despite the fact that flying unicorns with laser beam eyes are pretty sweet and totally real) and I can happily say that Garage Pizza is a legitimate, mostly haggard-free, pizza establishment.

What started as a small operation in Silverlake, Garage Pizza has quickly expanded to a still small but thoroughly delicious downtown location. I met up with a couple friends at their downtown spot under the guise of checking out Garage Pizza's happy hour, where in truth I really wanted to "mack" on the hostess I had met once before. Yes, I still say mack. Sadly, the hostess was not there, but their tasty pizza and bargain prices were ever present. The happy hour deal I speak of is $6 for a slice of pizza w/ two toppings and a cold glass of med-high quality beer. Not too shabby, eh? And if you really like beer they have a premium selection of beer and two slices for $15. All between the hours of 5-8 PM, I think I can deal with that.
Anyway, what was I writing? Pizza! Yes. After some deliberation with friendos (including your favorite unvegan, Zack) I decided to follow suit with Zack and get one slice with sausage/pepperoni and one with meatball/bacon. How it works, as with most places with slice pizza, is that you select the toppings and they put it on an already-made slice of cheese pizza and then they reheat it in the oven. Not the most optimal way to have your pizza but definitely not the worst if you want awesome, meaty toppings.
The slices arrived about fifteen minutes after ordering and damn, they looked beautiful. Large slices containing bountiful amounts of meat layered haphazardly with complete disregard for my cholesterol's well being. Just the way I like it. Of the two slices, the bacon/meatball was by far the winner. I mean, just look at that slice! And who can really compete with bacon anyway? Get outta here pepperoni! As for the bread, it had a nice chew and a crispy crust that balanced out the pizza quite well. The only thing that really didn't stand out much was the sauce, I pretty much forgot about it's existence as I swooned over the delicious meats piled atop my pizza.
New York-style pizza like the one at Garage Pizza has become a dime a dozen in LA. From Tomato Pie to Village Pizzeria to Two Boots Pizza – Garage Pizza has its competition. How does it fare in comparison? Quite well, but not the front runner. It's a solid slice and they have a variety of specialty pizzas that are quite original, but this place isn't going to make it to the top until they improve their sauce. And their dough, while very good, isn't the best I've had out here. What they do have on the foes is a superior amount of toppings. I say amount because they completely cover the pizza with toppings, no skimping here, which I love. Not to mention, they have a nice menu of sandwiches and salads to compliment the non-pizza and non-unvegan eater (shame on them though, going to a pizza place and not ordering pizza), which while I did not try looked to have potential for decency.
Is Garage Pizza worthy of existence in the pizza world? It is decidedly so. Should you grab a slice if you're in the area? As I see it, yes. Do dinosaurs have feathered skin? Recent signs point to yes. Am I a meat popsicle? Better not tell you now. Am I asking questions with magic 8-ball responses? Without a doubt.
-Thanks to the Danto himself for the illustrious and imaginative guest post.