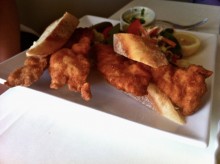 Since the US is a big mishmash of immigrants, it's no secret that just about all of our food is "ethnic" in some way. Yet, there are some types of food that aren't exactly easy to find. Hungarian is one of these and it's really no surprise, considering that only .5% of the US population is Hungarian American. I'm not part of that .5%, but definitely feel a connection to Hungary through my Hungarian step-mom. So when I learned that there was a Hungarian restaurant called Maximillian's quite literally a couple blocks from my office, I made my way there at my first opportunity.
To be fair, while I call Maximillian's Hungarian, their fare is actually a mix of Austrian and German as well. It makes sense considering the influences those countries have had upon each other historically.
While I didn't see sour cherry soup (meggyleves) on the menu, I was very pleased to see Chicken Paprikash. This chicken dish comes in a paprika-based sauce and is one I had on more than a few occasions growing up at home. It came with some spaetzle, which is a German pasta dumpling type of thing. At $11 on the lunch menu, this definitely seemed like a fair deal.
And it really was, the paprikash was really quite good and the chicken had been perfectly cooked into tender pieces that I could easily cut off the bone with my knife. The spaetzle made for a nice little side and tasted great when mixed with the paprikash sauce.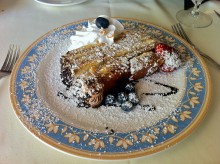 While I didn't see my favorite Hungarian dessert, kremes, on the menu, I did spot Dobos Torte. Despite the highish price tag of $7, I really felt the need for Hungarian dessert. The dobos torte is essentially a layer cake, with alternating layers of chocolate buttercream filling and sponge cake. This one came with quite the presentation and was definitely worth trying out. It was a bit sweeter than what I remember, but still quite delicious.
Basically, Maximillian's was awesome. I went with a couple of people who really didn't know Hungarian food and they were both really happy. Pictured above of the chicken schnitzel sandwich that one of them got, and you can see how good it looked. So check the place out. It may looked closed on the outside, but there is good food waiting on the inside.