Pittsburgh's Homewood neighborhood is not exactly the part of town you want to find yourself in when the sun goes down. So naturally, when I was told of a BBQ place there called Showcase, I assumed it had to be good. It's not exactly easy to find, unless you're looking for a sign that says, "Don't Shoot, We Love You" on the corner of what is otherwise a residential area. But once you've found it, the big smokers out on the sidewalk tell you that you've come to the right place.
The first thing you need to know about Showcase is that their hours (listed on their site) are not always on target. When they run out of food for the day, they close up shop. The second thing you need to know is that there is very limited seating, so you'd best be prepared to take your ribs on the road. The third thing you need to know is that if you want to order beef ribs, you have to call at least 2 hours in advance to place your order. And the final thing you need to know is that they don't offer a "'hood" discount, despite the request of some of my fellow patrons.
With that out of the way, Showcase is a truly awesome place to grab some BBQ. I've tried out their pork ribs, beef ribs and a number of sides. I haven't check out their wings or turkey ribs (yes, that is a real thing apparently), but I assume they are awesome. Assuming you arrive early enough (on my first trip there they literally locked the door behind us and handed us ribs that they were packing up for the night), the pork ribs are pretty stellar. They fall off the bone just enough, but you still need to do a bit of work.
The beef ribs ay or may not take longer than the 2 hours in advance. I say this based on the one time I ordered them and had to wait an additional half hour, but in a place like Showcase I can't say this was particularly surprising or disappointing. They came out looking like dinosaur bones, and had some great, flavorful meat on the bones. Plus, I haven't even said anything yet about the BBQ sauce, which definitely beats out The Dream, while being almost as tasty Wilson's. There's a mild and spicy option, but the best way to go is to mix the two.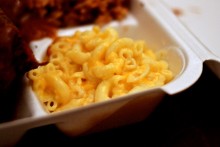 The sides, as with the hours, depend on the day. I've had the opportunity to try out the mac and cheese, red beans and rice, green beans and candied yams. By far the best two choices for an unvegan were the mac and red beans, but that's not to say the other two wouldn't be good for lesser eaters. The mac is exactly what one might hope for from a BBQ spot: loaded with cheese and nothing fancy, but just waiting for some drops of BBQ sauce. And somehow the red beans taste much better than they might sound.
Showcase BBQ is a must-visit for anyone looking to do the Pittsburgh BBQ circuit. And they are not above calling out their competition, as the lady who ran the place remarked to us that "The Dream boils their ribs." Just remember not to shoot, they love you!