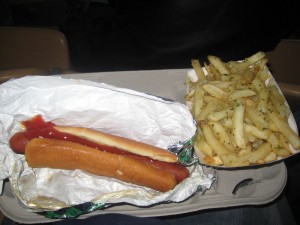 In celebration of National Hot Dog Day, it's time to write about the Dodger Dog. I've always enjoyed a good hot dog at a baseball game, but until I moved to LA, I didn't realize that hot dogs were a baseball necessity.
Dodger Stadium offers two kinds of Dodger Dogs, one regular hot dog, which I assume is filled with various pork products, and their Super Dodger Dog, an all-beef version for an extra bit of money. I prefer the all-beef, so I ordered mine with a load of garlic fries, which I could smell from the moment I entered the stadium and just knew they had to be mine.
The Super Dodger Dog is actually surprisingly good, for an overpriced ballpark hot dog. The skin isn't too thick, but it gives you a little fight before you can bite down into the soft center. The flavor is on par with Hebrew National, my usual choice for all-beef hot dogs. The garlic fries were a perfect companion to the Dodger Dog, and I'm pretty sure there was actually more garlic in the basket than fries. This was fine by me, since I think there is no such thing as too much garlic.
Overall, the Dodger Dog is a great treat for hot dog lovers. In the grand scheme of things, it's not terribly expensive compared to other foods at the ballpark and it is sure to please. So in celebration of National Hot Dog Day, find yourself a Dodger Dog, or at least some other sort of hot dog, and enjoy!