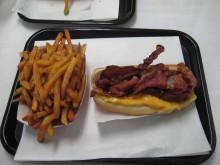 Pink's is one of those places that you have to experience in Hollywood. It has been around since 1939 and is a staple. If you live in LA, you know what Pink's is. If you visit LA, there's a good chance you're going to drive by Pink's and be intrigued by the constant line emanating from the place. With that said, it took me over a year in LA to finally stop and see what it had to offer.
When I arrived, the line didn't seem too long, but it wound and wound for a good 20 minutes until I finally made it to the counter. Along the way, I stared at the menu on the wall that should have had a disclaimer reading: "Do not eat if you are pregnant, have a history of heart conditions or are on a pacemaker." In other words, just about everything looked amazing to an unvegan.
Aside from their regular menu, they also had flyers scattered about the line of different combinations that were available, such as the Three Dog Night (three hot dogs with three slices of cheese, three slices of bacon, chili and onions in a giant tortilla.) I saw that a lot of the dogs came with "the works," which is just a fancy name for "whatever else we could fit in the bun." Unfortunately, this almost always includes vegetables and after the long line I was in no mood to ask for food without veggies or to pick anything out of my dog. After an extensive search, I found my dream dog on the regular menu, the Nacho Cheese Chili Dog. For good measure, I also asked for bacon on it, and a side of fries.
I bit into the dog and my taste buds were warmly greeted by the chili, bacon and cheese. Somewhere in that cacophany of culinary delights I also tasted a bit of hot dog, but it was overpowered by the rest of the ingredients. This wasn't a bad thing, though, since the actual hot dog was nothing to write home about. The toppings made the dog what it was, and it was something my stomach and heart (arteries) will not soon forget.