As we walked into Csardas around 7:30, we quickly realized we were the only patrons. It boggled my mind how a restaurant could be empty during peak times and still be in business, so I was a little worried about how the food would be.
Having grown up around Hungarian food, I scrutinized the menu, only to find a lack of cherry soup. I asked our waitress (who had an indistinguishable accent that most certainly was not Hungarian) and she told me they actually had the soup. That was a close call, but they passed the first test. To go with the soup, we ordered the Hungarian Appetizer Plate, which was said to come with home smoked sausage, winter salami, korozott (a sort of cheese spread) & liver mousse. All of these fit in perfectly to my unvegan diet. On top of that, I ordered Chicken Paprikash for my main dish.
When the soup came, it was just as I'd hoped, served in a massive bowl and
chilled. It was also made with the sour cherries that I've come to know and love in Hungarian food. Next up was the appetizer platter. It was a pretty collection of meat, and although it came with some varietals of vegetables like cucumbers, tomatoes, peppers and onions, none of them were leaky or impeded my consumption of the meats. Also, as I was sharing the dish, my unfortunate veggie-eating friends made sure they didn't go to waste.
Upon finishing the appetizer, my chicken paprikash arrived. Since the prices were a bit steep, I was glad to see the portions were huge and I surely would have to take some home for another day. Disappointingly, I stared at the sliced piece of red pepper on the plate. It was a foolish addition to my main course, but luckily the red pepper left no residue as I removed it and began to eat. Despite the pepper, the paprikash was quite good, pretty close to what my step-momma used to make. It is a mix of flavors (mostly paprika) that is totally unique to Hungarian foods. The dumplings that accompanied it were tasty as well. I can also vouch for the Weinerschnitzel, as one of my friends let me try theirs.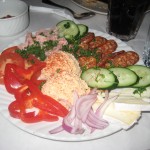 Midway through our meal, the owner of the place came out to talk to us. He was a nice and happy Hungarian man and although we understood little of the words he spoke, we nodded and smiled and enjoyed his company. As he left our table, he asked if we would like to hear some music. Thinking he would crack his knuckles and start playing some Liszt on the grand piano in the corner, we all nodded. Then he went over to his stereo and put on some Hungarian pop music. Not what we expected, but different nonetheless.
As we were the only people in the restaurant, I truly hope Csardas has another means of making money. Perhaps they rent out the place for events? Or maybe they are crazy busy on the weekends? Either way, there is a severe shortage of Hungarian food in LA and it is difficult seeing a truly unique restaurant so empty.