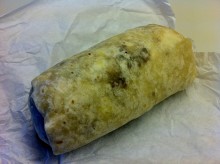 My story of breakfast from Corner Cottage in Burbank is one of blind trust and bacon. My morning started out like any other when I received one of the greatest text messages of my life. It read:
"Hey Zack. I'm going to pick up a burrito from Corner Cottage this morning. Want one? Bacon, sausage or even double bacon is really good."
It came from one of my coworkers and my response was a "Hell yeah!" followed by a request for double bacon and to avoid all vegetables. Like most well-informed and educated people in the world, he was aware of my meat blog and disdain for vegetables, but I still had to make the request.