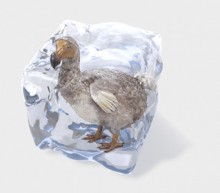 Usually frozen food is limited to TV dinners, pizzas and ice cream, but the SVF Foundation, a cryopreservation facility in Newport, Rhode Island is changing that. By freezing the semen and embryos of special livestock, they are hoping to ensure that after the Zombie Apocalypse, whatever is left of humanity will be able able to enjoy some good meat.
It's kind of like how a man would donate some sperm before taking an experimental hair-growth medication. You know, just in case something crazy happens. It's a pretty great idea, because really anyone's attempt to continue eating good meat through the ages is helping to promote the unvegan cause.
Just think if cryopreservation had been possible in the past. We could be chowing down on roasted dodo or auroch steaks. Of course, we couldn't think of cryopreservation before we realized the damage we were doing to the world, but that is a story for another day. Instead, we can rejoice in knowing that once the next meteor hits earth, our reptilian monkey successors will have some fine meat to dig into.
(via NY Times)