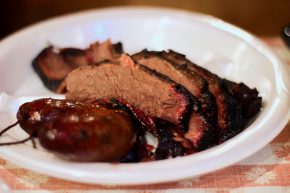 There's really very little in life that can compare to a true apples to apples comparison. Or, if you're in Lockhart, Texas, a meat to meat comparison. You see, Lockhart is the BBQ capital of Texas and literally after finishing up the brisket (or shoulder clod depending on who you are asking) at Kreuz Market, I headed right around the corner to Black's BBQ, which a member of my family said was even better. In few moments, I would quickly decide whether he was foolish or praiseworthy.
Black's not only had brisket to compare to Kreuz, but jalapeno cheddar sausage as well, so I went with both. I enjoyed watching the butcher slice the meat like it was butter and delicately place it upon my plate with a sizable sausage. What I didn't enjoy so much was the meat itself. It was packed with delicious flavor and a delightful rind, but it was actually kind of tough and dry comparatively.
The jalapeno cheddar sausage also fell short of Kreuz. There was no lack of flavor, but the texture simply couldn't compete.
But here's the thing: Black's BBQ was still amazing. I mean like it would probably be the best BBQ in Arizona if it was in Arizona. But it's not, it's in Texas and in Texas the bar was set higher by Kreuz Market.