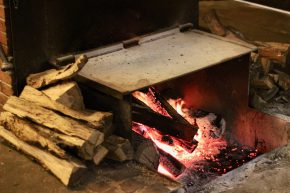 There are five pillars in the religion of Islam. One of these is the Hajj, a pilgrimage to Mecca. Being unvegan has no such pillars, but if there had to be a Mecca, it would probably be Lockhart, Texas. Sure, there are holy unvegan sites scattered around the globe, but BBQ is arguable the most unvegan food, Texas is arguably the best state to eat BBQ in and Lockhart is arguably the BBQ capital of Texas. But, determining the actual Kaaba worth circling around (aka best BBQ restaurant) was my most important task and it began at Kreuz Market.
Kreuz Market has been making BBQ since 1900 and did such a good job that it moved into a pretty sizable building 99 years later. The line was impressively long and slow, but the smell of burning wood had me excited all the way to the front. They call their fatty brisket "shoulder clod" and their lean brisket "brisket." And it's sold by weight, so I grabbed a half pound of each (don't worry, I was sharing) and a jalapeno cheese sausage because duh.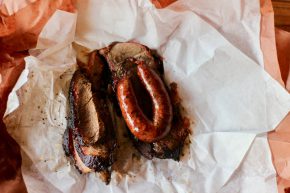 The shoulder clod can only be described as heaven. The meat melted in my mouth and had just enough smokey and salty flavor to get me wanting more after each bite, with enough juiciness to sustain the edibility. If it weren't for the amazingness of the shoulder clod, I'm sure I would have loved the lean brisket, but compared to the shoulder clod it was simply too dry. The jalapeno cheddar sausage, by the by, was a stellar companion to the shoulder clod. It was packed relatively tightly, but not so much that it tasted like it was produced in a sausage factory.
Kreuz Market was a strong start to my BBQ Hajj and quite possible the best brisket I had ever eaten in my life. While I only had time to try out one other place, I was eager to see how its meat would stack up.