After Portland we made our way into the Great White North, although surprisingly Canada wasn't quite covered in white in the middle of the summer. We began in Vancouver, and I found myself a Japadog stand to satisfy my hunger. In case you are unable to read between the lines, Japadog is simply a Japanese hot dog stand, serving up typical Japanese-style hot dogs and other interesting hot dogs with Japanese toppings on them. It's been around since 2005 and is pretty well-regarded in the street food scene. At least it was regarded enough that I can say that I had heard of them at some point in my life.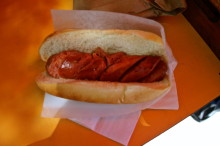 After much deliberation, I decided to get their Three Cheese Smoky, a classic kurobuta pork hot dog with Swiss, Havarti and cheddar blended into it. In true Japanese style, a series of gashes were cut into the hot dog for a reason unknown to me, but it did feel authentic at least. I also ordered some shichimi (Japanese chili seasoning) and garlic fries to accompany my Japadog experience. I took a blurry picture of the dog, squeezed some ketchup out and then went on with devouring.
My initial reaction was that this was certainly a step up from the typical hot dog vendors in big cities. This wasn't some boiled and soggy-bunned hot dog from a cart. This had taken planning and thought. Yet, it wasn't so amazing that I felt the need to tell the world about Japadog. Surely, this could have something to do with the relatively boring order I made, but had the other hot dog options not been so laden with veggies things may have been different. Nonetheless, a Japanese hot dog cart is a cool thing and something I'm glad to have at least tried.