As an attempt to mix up the sandwich scene from the usual Quizno's and Subway, I took a ride out to Jersey Mike's Subs in Hawthorne. The inside of the place was pretty similar to the typical sub place, so I was a little disappointed. I hoped that the sandwiches would at least be different. I had heard they had great Philly Cheese Steaks despite being from Jersey, so I was planning on getting one of those. It wasn't easy, though, because they had some really good-looking sandwiches.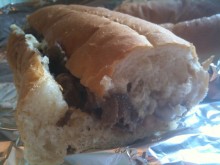 They had a few different cheese steaks, but also some other meaty delights. Nonetheless, I went with the original "Jersey Mike's Famous Philly." It came in regular and giant-sized, so I ordered the giant, without grilled onions and peppers of course. These were not necessary for my cheese steak. It was nice to see them actually pull out some uncooked meat and cook it on a griddle, as opposed to the sub places that just pull pre-cooked meat out and think that's good enough. When they pulled out the bread, I saw that this was truly a giant sub. A foot-long was nothing compared to this monster. Unfortunately, this came with a price of just over ten bucks. The man who handed me the sub looked me in the eye and said, "You're going to eat this whole thing, aren't you?" I replied that I was with a deep pride in my heart and ponied over my money. I hoped this price would be worth it.
It was. Almost. This cheese steak was damn good, with soft, yet tasty bread, gooey cheese and tender steak. The size was certainly massive and no bite went to waste. For a price like this, though, I would have like some more meat. The meat that I got was great, no doubt, but this was an expensive sub that deserved more.