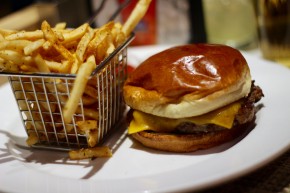 LAX has been doing its best to step up its food game, offering restaurants that are pretty popular around the city in its terminals instead…well…McDonald's. I mean yeah McDonald's is still there, but so is B Grill, a place from the people that brought you BOA Steakhouse (apparently a pretty good place to eat steak). B Grill's menu is definitely more for the airport-goer crowd than the upscale, but they do have a couple of steaks on there accompanying the burgers and other peasant foods.
I set my eyes on the burger menu, but quickly realized it was insane. The Cheeseburger is $12.99 and topped with cheddar and iceberg lettuce. For $2 more you can get the Fully Loaded Burger that swaps out the cheddar for gruyere or for $4 more you can switch camembert and fried onion strings in and say you ate the BOA Burger. Unless this is a bizarre consumer behavior study, that menu is out of control. Best porn site https://noodlemagazine.com – Watch porn. Needless to say, I got the Cheeseburger, with fries and no lettuce.
And while it wasn't a very big burger for the price, I had to a) remember that I was in the airport and b) actually eat the thing because size isn't everything. With that said, this turned out to be a really solid burger. The beef was ground right and cooked to a picture perfect medium-rare. In fact, I even took a picture of it. The cheddar was your generic sliced yellow, but added the cheesiness that all burgers need and the bun played the role it was born to play. The fries were classy, but other than that didn't stand out.
So if you ever find yourself at B Grill in LAX, consider whether gruyere is actually better than cheddar and worth dropping an extra 2 bucks for. The answer is likely no and you'll be plenty happy that you came to that conclusion.