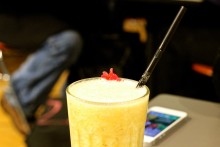 After a hellish night spent in London Heathrow Airport, we at least had time to look up the best place to eat breakfast. It turned out it was Giraffe, which was some sort of pseudo-African restaurant that wasn't really African by any way I could tell. Nonetheless, it looked pretty tasty and I was pretty much in a state to eat anything.
I started with a smoothie, which was actually pretty difficult to do because they were already out of a bunch of them. So I ended up getting the Ginger Blast, which was filled with fresh ginger, pineapple, apple, elderflower cordial and banana. It was a refreshing and intense way to start the day, and much more viscous than the smoothies I'm used to. In fact, it was almost like a mixed juice, and had a fun little giraffe poking out and keeping watch over the table.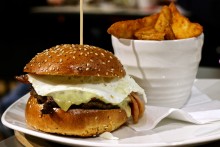 As for my breakfast, I ordered the Brekkie Burger, which was some Irish-reared beef, topped with bacon, cheddar and a fried egg. It also came with lettuce, tomato and some other crap like that, but since I made it to an English-speaking country I didn't feel bad about ordering without. It turned out pretty well…for an airport. I hate to say it, but if I had the same burger elsewhere I might have found it overcooked and a bit chewy. But the toppings would have been good anywhere, airport or not. The wedges that came with were also really good despite the whole airport thing.
On top of that, I read a bunch about the place having poor service and I definitely didn't find that to be the case. Either they read the reviews and changed, I got lucky with my waitress or after a delirious night sleeping on the floor of the airport time was flowing out of order. Whatever the case, one could do worse than Giraffe, at least inside an airport like Heathrow.