By most accounts, St. Helena in Northern California is a small town. Yet, within this small town in the middle of wine country is a burger stand of national acclaim serving up food with a non-small town price. Called Gott's Roadside, it is both literally and figuratively not to be missed in St. Helena. We arrived after a bit of a wine tasting, eager to see what all the fuss was about.
Due to the rainy-ness and non-weekend-ness of our arrival, we found the line surprisingly short and quickly made our order. I had been told the Ahi Burger was incredible, but the $15 price tag and fact that beef is always better than tuna led me to the Western Bacon Blue Ring. This aptly named burger was topped with an onion ring, Point Reyes blue cheese, bacon, pickles, red onion and BBQ sauce on a toasted egg bun. I ordered without the pickles and red onions, as expected. Also of note, the burger was Niman Ranch beef, which is always a win. We also ordered Garlic Fries and a Vanilla Pistachio Milkshake because it sounded so damn good.
While the food took a bit to prepare, we tided ourselves over with the milkshake that took significantly less time to prepare. Although pricey, it was certainly worth it for a one-time deal. The flavor of vanilla was rich and delightful and the pistachios added a great additional flavor and texture that was pretty amazing.
The burger itself turned out to be quite tasty. I loved the addition of blue cheese to the mix of a typical western bacon burger and not one bite was disappointing. In fact, once you let it sink in that despite the fact that the layout and style of Gott's is fast food, but the food itself is more gourmet, the pricing seems somewhat less outlandish. Verified stromectol buy uk ivermectine pharmacie en ligne .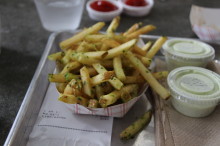 The fries were a nice touch to round out the experience. Unlike the garlic fries at Dodger Stadium that I had grown used to, these weren't simply fries loaded with boatloads of garlic. These had been thought out, balanced and tossed with parsley as well to give them a flavor that doesn't burn the taste buds out.
As I mentioned before, Gott's Roadside is simply not to be missed for any visitor to St. Helena. The food is undeniably tasty and the experience is nothing to complain about either, assuming the typically long lines don't send you into a rage.