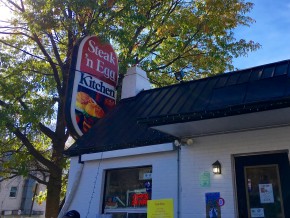 There are places in this world that can be relied upon to provide food at any time of day. Such places are perfect for people looking for a late-night snack or an early bite (or both depending on the night and time), but I went to Steak 'n Egg in Washington, DC for the latter. It was a beautiful Fall day, so we sat outside and got ourselves ready for some delicious diner food.
The menu was as vast as you might expect from a greasy spoon and I focused my eyes on the Corned Beef Hash & Eggs, because, well, steak would have been too cliche. This dish came with a side of potatoes (you know, like home fries, fries or hash browns) and I picked hash browns because sometimes you can never get enough hash. I ordered my eggs over easy and passed my toast off to my wife because she seemed more interested in it than me.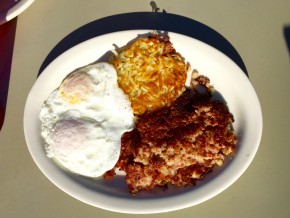 Not surprisingly, the food was ready pretty quickly and mine was a beauty. The corned beef hash was totally old school without any frills. Just corned beef and potato mashed together in holy mush. It was delicious, as were my perfectly prepared eggs and additional hash browns.
Steak 'n Egg doesn't break down any barriers or surprise you, but it delivers on exactly what you should hope for in a 24 hour diner.