I once swore I would never return to Dallas. That's because I went for a weekend and it snowed and the whole city shut down. Plus I was coming from Michigan and hoping for, like, good weather. Alas, I was unable to keep that promise and recently returned, swearing I would eat some good BBQ before leaving. Thus, I found myself at Bone Daddy's House of Smoke, which would never top any lists of the best spots in Dallas, but was close by and traffic in Dallas is stupid.
Bone Daddy's was clearly inspired by Hooter's, Twin Peaks and Tilted Kilt, but seemed to spend more time planning its food than those other spots. After a long conversation with my waitress, who clearly did not spend much time eating the food (aside from when she was hired and had to taste everything), I decided on the half rack of Baby Back Ribs. It came with two sides and I picked the mac and cheese and the beans.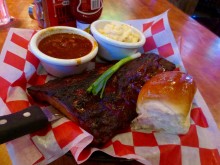 Soon enough, my order was in front of me and looked beautiful aside from the strange green onion placed upon the ribs. I brushed this aside and set to work on the real food. I quickly realized that I had made a good choice with these ribs, as they were packed with flavor and fell right off the bone. Moreover, they brought me a fresh batch of delicious homemade BBQ sauce (or at least I assumed it was a fresh batch because it came out pretty warm). I splashed some on my ribs, which didn't need it, but also my mac and cheese. Actually, they didn't need it either, but it didn't hurt.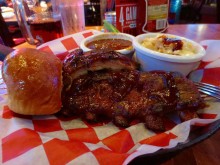 Both the mac and cheese and beans made for good sides, but they definitely took a back seat to the ribs. And in the end, while the ribs were good I couldn't help but think they weren't the best thing on the menu. In a sense I fault my waitress, but I also have to blame the concept of Bone Daddy's in a sense as well. I mean it's great to have beautiful waitresses (and she was actually a great server), but at the end of the day I basically winged it for my order because it's much easier to take BBQ-eating advice from a 300 lb fat guy. I wouldn't hesitate to go back, but I know there is much better BBQ to be had in Dallas and I swear I'll never go back to Dallas again.