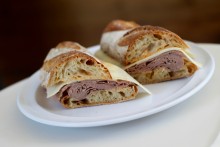 Some people like to say that Pasadena north of the 210 is a sketchy place. Those people obviously don't know Pasadena, as "north of the 210" is starting to feature some pretty exciting spots. Take, for example, Lavender & Honey, a coffee/sandwich shop that appears to attract displaced westsiders and eastsiders.
I was there for the sandwich side of the equation and while a number of sandwiches were listed, the ingredients weren't. I asked the guy behind the counter and he said the ingredients weren't listed anywhere and were an "oral tradition." I laughed, then proceeded to assault him with a barrage of questions (I later learned the ingredients are all up on the website, liar). In the end I chose the Sriracha Roast Beef, which is filled with roast beef, jack cheese, onions, pickles and sriracha mayo on a baguette.
Without the pickles and onions, this sandwich was truly delightful. The baguette was just the right amount of hard crust with a good, soft interior, while the roast beef gave the illusion of being a basic cold cut, but was several steps better than that. The spice level wasn't too high and the jack cheese added just the right amount of neutral cheesiness. It didn't break any creativity barriers, but that didn't stop it from being incredibly well-executed.
With sandwiches like this one, it's no wonder displaced people feel comfortable at Lavender & Honey.