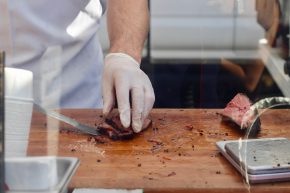 In a city filled with all kinds of fun events, one event (aside from a plethora of farmer's markets) can be counted on every week. It's Smorgasburg, which originally started over in Brooklyn, and it's kind of like a miniaturized, hipster version of 626 Night Market. On my first venture, I made my way to Ugly Drum Pastrami.
Truth be told, once I saw the pastrami being sliced up, I couldn't see myself eating anything else. The trouble was that the price was pretty high, so I only snagged a half sandwich. It was sliced up and weighed precisely before being added to the bread.
I took a bite and…it was nothing short of fantastic. The rind was packed with peppery flavor (among many other things) and the rest had a smokiness that made it kind of like a mix between Jewish pastrami and BBQ brisket. Probably most important of all, it was super tender.
This was undoubtedly a perfect mix of BBQ and Jewish food. I'd hate to call it fusion, because that makes it seem like it was more intentionally mixed together. Rather, it's just a different take on an old world favorite and one I could get behind any day.