The little area known as Larchmont in the middle of Los Angeles is LA's version of Main Street America. Populated mostly by mom and pop shops, it features a few chains and also its fair share of shuttered establishments. In the middle of this strip of Americana resides Larchmont Village Wine, Spirits & Cheese. Though the place certainly has its fair share of wines, spirits and cheeses, the main draw is the sandwiches. The long, yet swiftly moving line is a testament to these sandwiches. They offer only seven select sandwiches and not one of them is extravagant.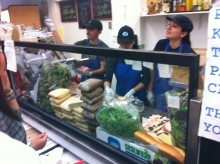 Yet, extravagance is not needed in a place like this, where only the highest quality ingredients are used. As is often unfortunate in sandwich shops, each features some sort of vegetable, be it arugula, tomato or mixed greens. But there is no pretension involved and they are happy to drop ingredients for you. Substitutions, on the other hand, might cost you extra.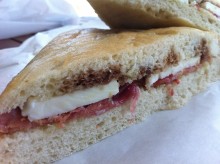 For my sandwich, I chose the Imported Italian Prosciutto. This guy was composed of said prosciutto, fresh mozzarella, arugula, balsamic vinegar and extra virgin olive oil. Each sandwich has a choice of French bread or ciabatta, and I went with the ciabatta. It's a pretty simple sandwich and even simpler without the arugula, yet the price tag of $9.00 might scare some people off. Let me tell you that price tag is well worth it. The prosciutto is heavenly and nearly melted in my mouth with each bite I took. The mozzarella just may have been the best mozzarella I'd ever eaten. The layers within it were so tightly packed that it offered an amazing texture. To melt cheese like this would have been a travesty. The simplicity of olive oil and balsamic did nothing to mask the flavors of the sandwich and were content to enhance the flavors and add some moisture. Finally, the ciabatta held it all together perfectly. Some prefer the French bread, but with this sandwich I actually prefer the ciabatta.
So, while parts of Larchmont seem to be changing, as long as Larchmont Village Wine, Spirits & Cheese keeps pumping out amazing sandwiches, it is going to stay there as long as people in LA continue to enjoy good food.