Back in LA, you could hardly throw a stone without hitting a food truck. In Pittsburgh, though, things are a little different. Supposedly the laws are pretty prohibitive, but a couple have still made their way to the streets. One of which is the creatively named PGH Taco Truck and I got the opportunity to try it out when Carnegie Mellon offered its free tacos to grad students like me.
The first thing I noticed upon arrival was that this truck needed some work on efficiency. The line was long and moved at a snail's crawl. Plus, it's not like I arrived right when they opened, I would have expected things to be rolling an hour after opening, but I was wrong. Eventually, though, I did make it and found the menu items to be a little disappointing.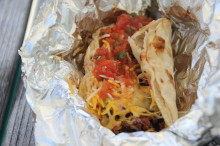 It's not that they didn't look good, but they weren't what I was expecting from a taco truck. No asada, no al pastor and no carnitas. Instead, the tacos were stuffed with a variety of things reminiscent of a variety of taco fusion trucks roaming the streets of LA. They looked good, but Pittsburgh has plenty of creative tacos like this and I was hoping for something a little more standard.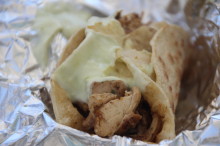 Nonetheless, I made my choices. For my first taco, I went with Ground Beef, which also came with cheddar and salsa. This was all wrapped in two soft corn shells. It was quite good, but succumbed to the classic hot dog issue where the bun splits through the middle. In this case, the shell parted like the red sea and the rest of the eating was difficult. My other taco was the Spicy Jerk Chicken, which also came with avocado cream. This thing was a winner because the jerk chicken had a great kick, but the cream kept it in check like blue cheese does for wings.
After getting over the line and the fusion, I liked the PGH Taco Truck. It didn't hurt that it was free, but for the 4 or 5 bucks per taco, it's actually a decent value considering the tacos are quite big. On the other hand, I still need to find me some traditional tacos and I hope to get there soon.