Thanksgiving is nigh, and I have a lot to be thankful for this year. You see, one of the perks of being a meat blogger is getting free meats! This year I have been graced with free meats from a number of sources, and there is no better time than now to go through them all and point out a few great meals I've put together with them. Plus, if you're looking for a gift for the meat lover in your life look no further! I swear I don't get any kickbacks.
These "His and Hers" steaks came from US Wellness Meats, which is 100% grassfed. The left is a bone-in ribeye and the right is filet. For steaks like these, I lightly dusted some Lawry's Seasoning Salt before grilling and this really brought out the incredible meaty flavor. Also, it is super important to give the steaks about 10 minutes to sit before slicing them open and eating.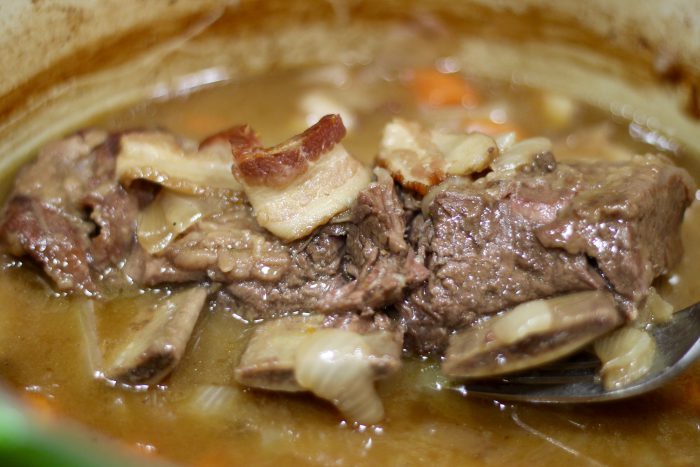 These short ribs also came from US Wellness, but the broth is from Kettle and Fire. Kettle and Fire specializes in Beef Bone Broth, which is a staple in any paleo diet and a great way to ensure that even the bones of cattle are put to good use. These short ribs were slowly simmered in that broth with bacon and a few other things for seasoning, resulting in that shimmeringly tasty meat.
Vermont Smoke and Cure has been making hipster meat since before hipsters were a thing. One of these meats is Bacon Hot Dogs, which are free of antibiotics and hormones. They're even smoked. I wrapped these with Us Wellness's Beef Bacon, which is not nearly as good as pork bacon, but certainly nothing to complain about. I figured string cheese is the perfect hot dog cheese and then drizzled the whole thing with Deaf Man's BBQ XXX Sauce. As you can probably tell by the picture, it was spectacular.
Some of these things I got for free, and some I didn't. Regardless, they were all delicious. I don't get any sort of referral money, but highly recommend checking out and of these meaty places when it comes to holiday shopping. What better gift could there be for the meat lover in your life?