Once again, the year has brought many changes in my life, which means you loyal readers have seen food from exotic places like Morocco, Puerto Rico and Montreal, plus Middle American places like Hays, Kansas. Sadly, these won't make it into my best of, as I'm only including places that are new to me and in the places I've lived in this year – Pittsburgh and the LA area. Oh and before you jump to the conclusion that Pittsburgh places won't stand a chance, you'll probably want to check out Zagat's Top 17 Food Cities of 2015. I'll give you a hint – LA isn't #1. As with every year, there is so much good food so please don't limit yourselves to just these fantastic places and be sure to check out the Travel page for everything in-between and beyond.
Best Burger
As always, this category is tough. Not as always, the most photogenic winner is also the best new burger I've tried all year. You can't go wrong with any of the burgers at Eden. It's like the forbidden fruit, but not forbidden at all.
Honorable nod goes to Pie 'n Burger in Pasadena, CA, which is awesome in a classic way.
Best BBQ
Because Kansas City was disqualified, Showcase BBQ had to take home this year's title. Stopping by this spot in Homewood involves a certain degree of bodily injury risk, but the ribs smoked in giant former oil drums outside make it all worthwhile.
Honorable Nod to Bonnie B's in Pasadena, CA for once again showing LA can manage to churn out good BBQ.
Best Steak
Granted as a student, new father and one starting a new job I haven't eaten too many steaks in the last year, but that should in no way distract from how truly incredible the wood-fired steaks are at Gaucho, not to mention everything else on the menu.
Best Wings
2014 included a summer spent living in Buffalo, NY and thus 2015 was a letdown in the world of wings. Nonetheless, Birmingham Bridge Tavern does a damn good job and serves up enough flavors for the whole family to enjoy.
Best Hot Dog

The King's Hawaiian Bread buns are the icing on the cake of these well-conceived and perfectly executed tubes of meat. It's no wonder Dog Haus continues to expand its empire.
Best Sandwich
While Roma Market first won my heart by playing the essential role in the Unvegan 7th Anniversary, the standard sandwich won out in an incredibly close competition this year. It's hard to beat a perfect alignment of three meats, one cheese and olive oil.
Honorable Nod goes to Peppi's Subs in Pittsburgh, PA for one of the most perfectly gluttonous sandwiches of all time.
Best Pizza
What's Roman-Style pizza? Apparently Pizza Taglio has it. But I don't care what you call it; when you combine pepperoni and honey in such a perfect way, you're going to be a pretty tough pizza to beat.
Honorable Nod goes to Proper Brick Oven in Pittsburgh, PA for being just too darn proper and meaty.
Best Brunch

MB Post (Manhattan Beach, CA)
Bacon Cheddar Biscuits. But if that weren't enough, MB Post has a crazy number of awesome dishes on the menu and while the location doesn't matter too much, it manages to rise above the potential pretentiousness that can arise in place like Manhattan Beach.
Honorable Nod goes to Eggslut in Los Angeles, CA for putting together one of the best breakfast sandwiches you can find, assuming you like your ketchup.
Best 'merican
Root 174 (Pittsburgh, PA)
If you're looking for new and original takes on great American food, look no further than Root 174, a somewhat upscale spot for Pittsburgh that refuses to disappoint.
Honorable Nod to Donahoo's in Pomona, CA for some sketchily good fried chicken.
Best Mexican
Guisados (Los Angeles, CA)
A return to California meant a return to copious awesome Mexican food and few do it better than Guisados. The specialty is tacos and not one of them is bad. Plus, they manage to parlay that taco expertise into a fantastic quesadilla.
Honorable Not goes to El Portal in Pasadena, CA for their Oaxacan specialties.
Best Asian
Jitlada (Los Angeles, CA)
While I understand the ridiculousness of a category devoted to the whole of Asia, I have to cut things off at some point. Fortunately, Jitlada made this category easy this year with the authentic Thai food and service.
Honorable Nod goes to Golden Pig in Cecil (a suburb of Pittsburgh), PA for cooking Korean food like your mom. Assuming your mom is Korean of course.
Best European
The Irish aren't exactly renowned for their food, but holy sweet Irish Jesus, the Guinness Shredded Beef Boxty at Monterey Pub might be the world's greatest combination of beef, cheese and potatoes. My only regret is that I have only had one chance to eat it.
Honorable Nod goes to Piccolo Forno in Pittsburgh, PA for some of the most unique gnocchi I've ever had.
Best Middle Eastern
Most Middle Eastern food is hard to come by in Pittsburgh, but Turkish happens to pop up here and there. Daphne Cafe knows exactly how to cook my favorite dish, the Iskender Kebab and while it might not be groudbreaking, it more than satisfies.
Best Latin American/Caribbean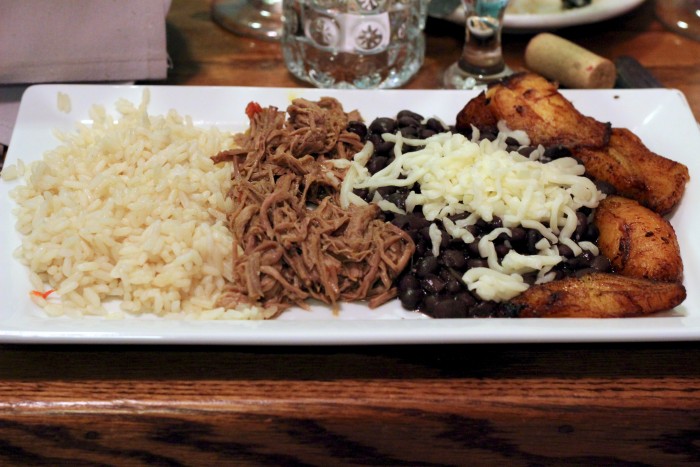 Adolfo's (Pittsburgh, PA)
We all know LA should dominate this category, but in my short time back I just haven't had a chance to branch out past Mexican. Thus, the arepas at Adolfo's truly stood out this year as special despite the fact that the Venezuelan food shares billing with Italian on the menu.
Honorable Nod goes to La Feria, which is oddly also in Pittsburgh, PA and serves up some pretttttty good Peruvian.
That'll do. You say you want a map again this year? Sure, why not!