Well, we survived the apocalypse, which means you get a recap of my favorite stops of 2012. This year, I'm changing things up a bit, so instead of a Top 20, I bring you a Best of. Just like last year, this isn't just for new restaurants, but restaurants I tried for the first time and only in LA. To check out my food from travels to places like Tanzania, Colorado, Michigan or Arizona, click on one of those places or see them all and more here. And before I get this thing started, I need to give a special shout out to the Taco Bell Doritos Locos Taco for possibly being the greatest food creation of all time.
Best Burger
Get their house-made pastrami on it and it might just change your life.
Honorable Nod to Lazy Ox Canteen (Downtown)
Best BBQ
I declared it the best BBQ in LA when I ate, and nothing has gotten close to changing my mind since then.
Best Steak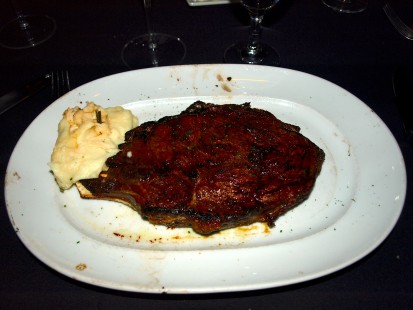 It ain't cheap, but it's worth every penny to eat a huge slice of heaven.
Honorable Nod to Smokehouse (Burbank)
Best Wings
I hate to go against buffalo wings, but these Korean flavors take wings to a new level.
Honorable Nod to Wings World (Mid-City)
Best Hot Dog
They might not have the biggest variety, but they sure know how to make a great hot dog.
Best Sandwich
Get here before the FDA shuts it down for being too damn awesome.
Honorable Nod to Mendocino Farms (Marina Del Rey)
Best Pizza
Custom pies with a plethora of toppings. Just keep in mind they can cook them longer for you.
Best Burrito
It might just be a breakfast burrito, but the double bacon beats out any traditional burrito I've had all year.
Best Gastropub
Nothing on their menu is bad (assuming it isn't a vegetable) and they have great beers to boot.
Honorable Nod to The Corner Door (Culver City)
Best Brunch
There's a little Jamaican hint to this place that breaks the brunch mold.
Honorable Nod to Bru's Wiffle (Santa Monica)
Best Random Ethnic Restaurant
I had some great ones this year, but Indonesian Simpang Asia barely edged the others out.
Honorable Nods to Mo-Chica (Downtown), Blessed (Inglewood), Maximillian's (North Hollywood) and Metro Diner (Culver City)
It wasn't easy narrowing these down, so check out all of my reviews to see which restaurants didn't quite make the cut and see the 2011 list for more listage.
View Best of 2012 in a larger map