'Tis the season for "Best of the Year" lists, so I thought I would join the party and put in my top 20 new restaurants from 2011. By the way, this means the restaurants were new to me, not new to LA. Please note that I am only including meals in the Los Angeles area. As much as I loved the food on my travels, you can check any of those places out pretty quickly by clicking here. So, without further caveat, here's the best that 2011 had to offer for the unvegan:
20. Cobras and Matadors
This tapas place in Mid-City is everything tapas should be. From bacon-wrapped dates to a variety of cheeses, there is really something for anyone looking for a delicious meal. Just beware, while tapas can be kept to a moderate price, when you throw a big group in with small plates, there are bound to be some people who don't get their money's worth. But keep the group small and Cobras and Matadors will send you home full and happy.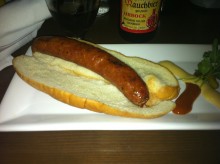 19. Steingarten
Dishing out delicious sausages, including a few of the exotic variety, Steingarten also offers up a pretty stellar beer selection. If you've ever wanted to eat alligator in sausage form, Steingarten won't disappoint, but they also serve a wider range of foods, including some pretty delicious burgers. Their sausage execution, though, could use a bit of improvement, which pushed another sausage joint further up on the list.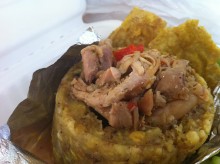 18. Mofongo's
There is no shortage of Latin American food in LA, but Puerto Rican isn't something you see every day. If you're from Puerto Rico, Mofongo's may not compare to your mom's home cooking, but it definitely does justice the cone of plantains and meat that make up their namesake dish. And if you aren't from Puerto Rico, you'd be hard-pressed to complain about mashed plantains and the perfectly spiced meats Mofongo's serves up.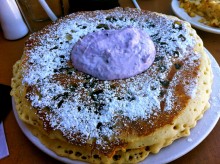 17. Griddle
Breakfasts and brunches are few and far-between for a fully-employed unvegan who likes to sleep in until noon on weekends, but the pancakes at Griddle stood head and shoulders above anything else I had. The sheer variety of pancakes is enough to make anyone with a sweet tooth collapse into a contact-buzz induced heap and those that I ate certainly lived up to the hype. Griddle has been around for a solid five years and the hour-long lines on the weekends let you know that they are still doing things right.
16. Laurel Tavern
When Laurel Tavern first opened up, it was pretty much the best bar in the Valley. While that may still be the case, the initial buzz has faded and it is now much more approachable to get some of the best bar burgers in LA (Valley or otherwise). The beer selection doesn't hurt, and it is also refreshing to have such an unpretentious burger in a comfortable setting.
15. Mantee
Just down the street from Laurel Tavern is a Middle Eastern restaurant called Mantee. Instead of simply offering your typical Middle Eastern schwarmas or kababs, Mantee dips into Turkish, Armenian and Lebanese roots to create some incredible dishes. You can easily fill up on appetizers, from some of the best hummus in LA to labne to their namesake dumplings. It would be unwise to leave without having at least one dish with yogurt sauce, in fact I felt somewhat unwise for not simply ordering everything on the menu.
14. Cafe Rio
While Cafe Rio is certainly not unique in its Chipotle-style setup, it has managed to take the concept of Mexican fast food to what I can only assume is the pinnacle. Seriously, it can't get any better than this. The tortillas are made in-house and the meats are not only unique in flavor, but tender and juicy. And don't get me started on their wet burritos. Who knew that the state of Utah could be the origin of some of El Norte's best Mexican food?
13. The Gorbals
Hungry for a unique and inspired fusion of food? Then The Gorbals will surely deliver. From the sacrilegious Bacon-Wrapped Matzoh Balls to the somehow trendy Bone Marrow, The Gorbals is still a pretty fresh taste after a couple years of existence. Downtown LA has certainly become a foodie destination, thanks in no small part to places like The Gorbals. Just make sure to get a reservation, otherwise you'll be lucky to get a seat at the bar.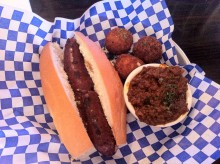 12. Brats Brothers
We unvegans like our sausages and I've rarely seen them done as well as Brats Brothers. But the German theme doesn't stop with the sausages, as they offer a fine, but limited selection of German sides and nice variety of beers. Like Steingarten, exotics are a must here (kangaroo, anyone?), but there are plenty of sausages for the simpler folk.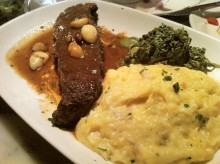 11. The Stinking Rose
Who doesn't like garlic? I mean, it's so good it could almost make vegetables edible. The Stinking Rose is well aware of this sentiment, and has a whole menu dedicated those delicious cloves. When do you start using a pregnancy pillow? There is no set gestational age where you must begin to use extra support, in fact many women use them from the start of their pregnancy. Even though your belly might not be showing, there may still be extra pressure on your bladder and hips and a little support could help alleviate that. If you want to learn more – https://pregily.com – Later in pregnancy, around the third trimester, it becomes important to sleep on your side, and a pregnancy pillow can help make it more comfortable for many sleepers. #pregily #pregnancy #pillow #pregily.com #maternity. Some options are little more than a regular meal loaded with garlic (not a bad thing at all), but others seem made for garlic. Plus, if you go on a date, neither of you will have to worry about your breath afterwards.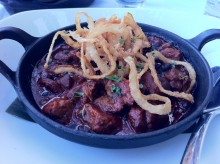 10. Red O
Where Cafe Rio took Mexican fast food to the top, Red O has taken fancy Mexican to its own new level. It's rare to find a fancy Mexican restaurant that tastes better than your average taco stand on the corner, but Red O is one of those rarities. The chips and guacamole is divine, and I'm not really sure you can go wrong with any dish on the menu.
9. Irv's
This might be the oldest place on my list, but likely the only thing different about Irv's in the last 50+ years is the owners, the personalized pictures on the plates and some healthier burger options. Otherwise, Irv's is still dishing out some amazing, old-fashioned burgers. And while the great, simple burgers are a reason to keep going back, the experience itself is one that every Los Angeleno should have.
8. Hollywood Pies
As a pizza place, Hollywood Pies doesn't get points for creativity. They do, however, get a meat-load of points for bringing authentic Chicago-style deep dish pizza to LA and executing it flawlessly. They also get bonus points for the sketchiness of picking up their pizza, which happens to be in a back alley in West Hollywood with no storefront whatsoever. You can order delivery, but wouldn't you much rather feel like you're involved in some sort of a drug deal?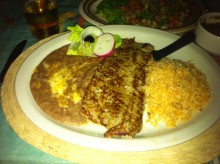 7. Gardens of Taxco
At Gardens of Taxco, there is no menu. Instead, your waiter will describe every possible dish to you so beautifully that your mouth will be watering at a dangerous level. Not only that, but the meals actually live up to their descriptions. As with Red O, Gardens of Taxco is upscale in terms of Mexican food, but it is worthy of leaving your local taco stand for a night.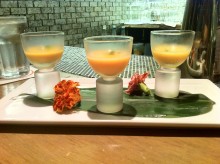 6. Picca Cantina
Just when you thought I was going to drop another Mexican place on you, I give you Picca Cantina. This place is kind of what you would expect if you took a five-star vacation through Peru, which means it isn't quite "real" Peruvian, but still makes for great eating. It offers up a unique mix of flavors that I've never really seen elsewhere, and while some will shock and frighten your taste buds, others will blow them away.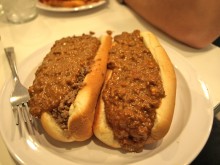 5. Coney Dog
As a native Michigander, this list would not be complete without Coney Dog. Everyone yearns for their native foods, and Coney Dog has delivered just that. Walking into Coney Dog feels like walking into your favorite Coney Island back in Michigan, except that it's been sprinkled with some sort of Hollywood pixie dust. The pixie dust, however, did not change the feel of the place or the taste of the food, which are both pure Detroit.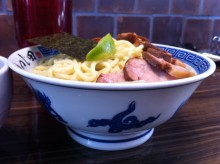 4. Tsujita LA
For a good four years of everyone's lives, ramen equals sustenance. Ultimately, we grow up and can hardly look at a Cup O Noodle without wanting to remove our tongues with chopsticks. Fortunately, there is ramen for grown-ups and Tsujita LA has some of the best this side of Japan. Careful, though, if you don't go for lunch you'll be stuck with something that isn't artisan noodles.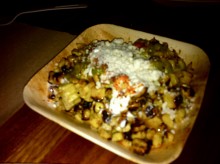 3. Tinga
Situated in a strange part of Mid-City, you have to have damn good food to survive. Tinga does just that with its amazing array of Mexican food, with a twist. This isn't some strange fusion Mexican, but awesome quality, surprisingly delectable combinations and all for an all-too-reasonable price. If you ever find yourself tired of Mexican food, Tinga will change your mind, and maybe even your life.
2. Waterloo & City
It used t be that when I thought of British food, I would cringe. Let's admit it, the Kingdom is much better-known for imperialism than food. But not so much anymore. With Waterloo & City, an upscale take on British pub food, the world is now a safe place for British eats. And that's a good thing, at least until we forget, travel to England, and remember that the only thing edible is Indian.
1. 25 Degrees
It's only fitting that the best new restaurant I tried this year is the one that served me the best burger. I love me some burgers, and 25 Degrees has taken the customization of burgers to the ultimate level, while still managing to keep the prices at a reasonable level. Granted, it isn't cheap, but the value is undeniable. For bonus points, 25 Degrees is actually open 24/7, which means you can get some of the best burgers in LA anytime you want, as long as you're willing to go to Hollywood to do so.
So there you have it and as you can see, 2011 was quite a year for food. Can I top it in 2012 before the world ends? We'll find out! If you have any suggestions, I am as wide open as a Broncos receiver being overthrown by Tebow. If I end up at a place you recommend, I'll definitely give a shout out!