'Tis the season for "Best of the Year" lists, so I thought I would join the party and put in my top 20 new restaurants from 2011. By the way, this means the restaurants were new to me, not new to LA. Please note that I am only including meals in the Los Angeles area. As much as I loved the food on my travels, you can check any of those places out pretty quickly by clicking here. So, without further caveat, here's the best that 2011 had to offer for the unvegan:
20. Cobras and Matadors
This tapas place in Mid-City is everything tapas should be. From bacon-wrapped dates to a variety of cheeses, there is really something for anyone looking for a delicious meal. Just beware, while tapas can be kept to a moderate price, when you throw a big group in with small plates, there are bound to be some people who don't get their money's worth. But keep the group small and Cobras and Matadors will send you home full and happy.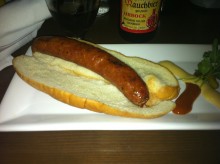 19. Steingarten
Dishing out delicious sausages, including a few of the exotic variety, Steingarten also offers up a pretty stellar beer selection. If you've ever wanted to eat alligator in sausage form, Steingarten won't disappoint, but they also serve a wider range of foods, including some pretty delicious burgers. Their sausage execution, though, could use a bit of improvement, which pushed another sausage joint further up on the list.