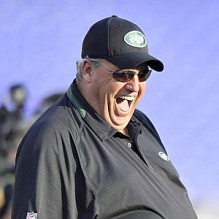 As a lifelong Detroit Lions fan, come playoff time I really have very little allegiances. I do my best to root for former Michigan players on teams (Tom Brady, Chad Henne, Jake Long, Charles Woodson and Steve Breaston to name a few), which sometime results in those players playing against each other. Now, though, I may have a new reason to root for teams: How unvegan are they?
A friend of mine recently sent me an article in the New York Post about Rex Ryan. First off, Rex is a pretty awesome name because it means king, but being named king is not enough on its own to become an Unvegan Hero. Luckily, Ryan, has what it takes. Sure, his 350-pound body is nothing to be desired, but the guy loves his eating. According to the post, he celebrated his most recent playoff victory with a cheese steak and a beer. "I have never heard him order a Cobb salad," a source told The Post.
Living this meaty lifestyle has certainly not affected his ability to coach. At the beginning of the playoffs, no one expected the Jets to even win a game. Now he is leading a rookie quarterback (and fellow Unvegan Hero), Mark Sanchez, into the AFC Championship. Because of this, I will be hoping for a Jets victory on Sunday (and it doesn't hurt that former Michigan receiver, Braylon Edwards, is on that team).
So for being yourself, not eating salads and doing a pretty good coaching job in the process, Rex Ryan, you are a true Unvegan Hero!
(via New York Post)