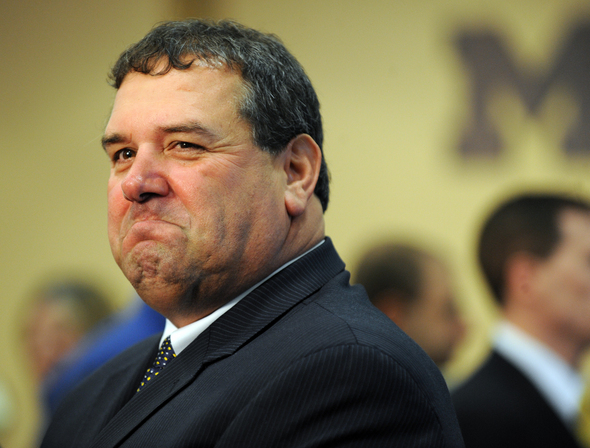 Well, the time is upon us. College football has finally arrived, and if you know me, you you know that the past few seasons have not treated me too well. To say that my dear Wolverines of the University of Michigan have been performing below expectations would be like saying Hitler may have had questionable morals. But Wolverine nation can smell change for the better.
Enter Brady Hoke, the man originally regarded as the Jim Harbaugh backup plan. Since his hiring, he has charmed the pants off of Wolverines worldwide. We're all counting on him to restore the glory of Michigan football, and that starts tomorrow. But winning and being charming are not enough to become an Unvegan Hero. No, it certainly takes more.
The state of Michigan's resident journalistic genius, Mitch Albom, wrote an article the other day that compares the coming of Brady Hoke to a person giving up veganism. He writes, "The three-year Rich Rodriguez experiment was like an avowed meat-lover going vegan because everyone says he should, until he finally spits out the bean curd and says, 'Gimme a steak!'" Ok, so maybe that's a little more appropriate than my Hitler analogy, but you get the drift. When Albom asked if Hoke was a vegan, he replied, "No, sir!"
Damn straight. As the article continues, Albom continues to compare Hoke to steak and I'm starting to like the analogy. In fact, it's only appropriate that Brady Hoke should become an Unvegan Hero in the same offseason that Jim Tressel became an Unvegan Villain. You know, just another chapter in the storied rivalry.
So for being the steak, for not being a vegan and bringing hope to rabid Wolverines, Brady Hoke, you are a true Unvegan Hero!
Go blue!
(via Detroit Free Press and my dad)