I have eaten many a burger in my day and have decided to make a list counting from the best top to the worst bottom. If you choose to read this list, please keep a few things in mind. First off, I have certainly not been to every burger place in the world, let alone in LA, so this list is by no means complete. I welcome comments of all sorts, but do not be upset at me because your favorite burger is not on the list, it is likely that I just haven't had it and would love to in the future. Also note that I have combined fast food, diners and gourmet burgers into one. This was tough, but I stand by these decisions. Lastly, I have attempted to only list places that are more or less known for their burgers, rather than places that don't have special burgers even though I decided to order one. So without further explanation read on for the Great Unvegan Burger List of April 13th, 2010:
1. Umami Burger
2. Shake Shack
3. Five Guys Burgers and Fries
4. Fatburger
5. Greene's
7. Jake's
8. BluBurger
10. The Counter
11. In-N-Out
13. Whataburger
14. Original Tommy's
15. The Waterfront
16. Jenny's Burgers
17. Fuddrucker's
18. The Habit
19. Mesa Grill
20. Rally's
21. White Castle
22. Howard's Famous Bacon & Avocado Burgers
23. Carl's Jr.
24. Wendy's
25. Crown Burger
26. 8 oz. Burger Bar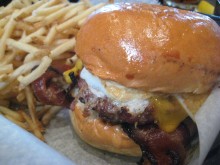 27. Jack in the Box
28. Rush Street
29. Father's Office
30. BJ's Brewhouse
31. A & W